DDoS mitigation with superior precision
Arelion's DDoS mitigation service applies surgical mitigation techniques to mitigate attacks automatically. Malicious traffic is dropped already within our backbone before it reaches your Internet connection, ensuring that only legitimate traffic passes through.
DDoS security for business continuity
Today's DDoS attacks can have an immediate and profound impact on businesses. We have designed our DDoS mitigation service to scale across the global Internet for each tier. We can absorb highly distributed, heavy attacks and allow data centers, servers, and Internet connections to operate normally even when under attack.
What does DDoS protection/mitigation service do?
Arelion DDoS mitigation automatically detects when you are under attack. This means that you don't have to dedicate resources to monitoring traffic or worse still, stops your organization to know you are under attack way before your systems start to crash.
Arelion DDoS Mitigation cleans or "scrubs" the Internet flow coming into your network and IT systems to remove the attack traffic. In this way your organization can continue to function as normal during the attack. Protection can start and stop as required, always ensuring your organization is covered.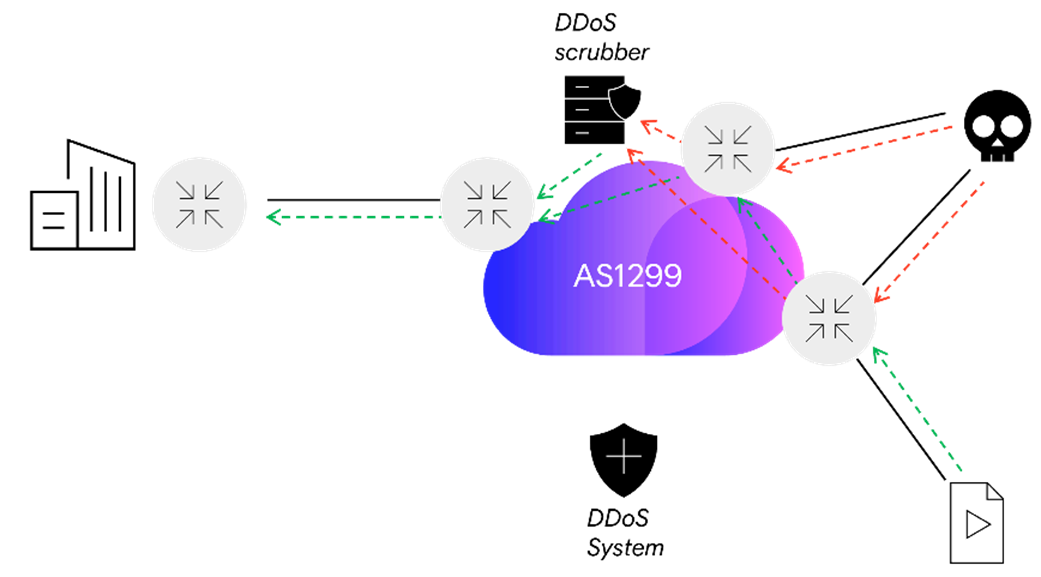 DDoS attack - redirection and clearing
Why is DDoS protection valuable for Enterprises?
Global companies have a significant portion of their business online, demanding a high level of network protection against DDoS attacks.
We provide a high-capacity solution throughout our global IP backbone that can be scaled to add more protected IP ranges, but also DDoS mitigation capacity to support your growing protection needs. Using Arelion's DDoS protection service you:
Protect your business costs, revenue, and reputation
Minimize your network interruption and disturbances
Ensure your online availability
Increase your overall effectivity and productivity
Flexible pricing mechanisms
We have adapted our pricing model to the risk profile of each customer, making it more economical than in-house edge solutions that can cause additional bottlenecks during DDoS attacks.