Addressing these challenges, Arelion recommended Cloud Connect - a cloud on-ramp service using Arelion's protected global MPLS backbone. By re-architecting private connections to each of the cloud providers, the solution met all necessary connectivity requirements.
The first phase saw Arelion helping the customer to provision a connection from one of their data centers to AWS, with Arelion guiding the set-up of an AWS Direct Connect connection.
The process was repeated for the other major cloud providers across the customer's multi-cloud footprint.
Since the connections are built on Arelion's wholly owned global backbone, the customer could confidently scale their bandwidth usage with built-in redundancy and high availability.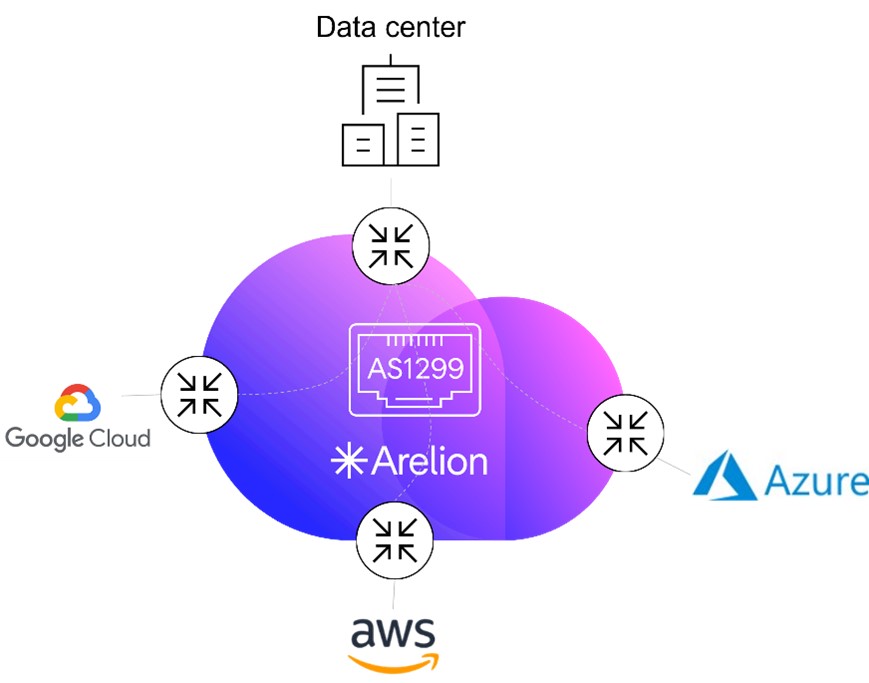 The Results
Arelion's solution has given the customer full confidence to do a lot more in the cloud, allowing their engineering and DevOps teams to focus more on innovation, rather than infrastructure -and move faster at scale.
The customer can now embrace greater automation of service delivery, data transfer and innovate with technologies like AI, machine-learning, blockchain and data analytics.
Customer Experience
The product onboarding process focused on getting the Customer acquainted with the Arelion Cloud Connect service as quickly as possible. Arelion provided the Customer with unlimited support and guidance from senior solution architects, facilitating seamless integration with the Cloud Connect service.
For future orders, the customer has the option to use Arelion's award-winning self-serve customer portal - MyArelion to design additional Cloud Connect solutions.
With a few simple steps, the customer can add or remove locations, scale bandwidth up or down, and connect directly with more cloud providers.